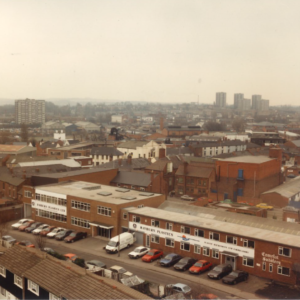 Rayburn: No ordinary factory.
Moving away from CNC-talk for the moment, we're taking a structural look at Rayburn's physical factory (which was founded in 1959). Were as most factory's exist within a flat floor business-parks facility, Rayburn has grown to its thirty-thousand square foot, unit by unit in the heart of Walsall.
In total Rayburn is made up of six commercial units. The first unit was purchased in 1962 on Whitehouse Street. Prior to this the land had been used primarily for residential dwellings, but the opportunity presented itself to convert the unit space and have it for commercial use.
The second Unit (the next one along) used to be a kitchen supplier and was purchased as a new extension to Rayburn Plastics Ltd in 1982. The next unit on from it (the third) used to be a small sweet factory, and again, was purchased as an extension to Rayburn in 1992.
Rayburn's last purchase was in 1996 (the fourth, fifth and sixth), a large leather manufacture and saddlery, the owner was keen to sell and signed over all three of his units and then ventured into retirement.
To see photos of the factory as it evolved throughout the years, why not visit our heritage gallery on our website, or simply click the link below.
Next Week!
Next week's blog will touch upon three future inventions that we believe will change the field of engineering forever.