MD John Griffiths accepting the latest 9001 standard from BSI in 2018.
About Rayburn
Rayburn have provided a high standard of service since 1959. We are experts in making plastic-based products. We also manufacture parts such as metals, composites, glass and foam.
Rayburn have grown to be specialists in complex, safety critical components and assemblies. Therefore allowing us to freely move our diverse skills across a wide range of industries. We pride ourselves on our ability to keep up-to-date with current and future market needs.
We have invested heavily in CNC machinery and CAD/CAM packages. These comprise of Sage 1000 Enterprise and a fully integrated Seiki Production Scheduler. Seiki has shop floor and machine data collection points. As a result this gives us total control over the manufacturing process.
We work closely with customers to help with the flexibility and quality/consistency in manufacturing. All parts fully comply with the ISO 9001:2015 standard.
High Precision
Rayburn offers high precision custom-made engineering. We source a diverse range of materials. Alongside our approved sub-contractors, we compliment machined components with a comprehensive range of finishes. These include anodising, plating, powder coating and printing.
If you have individual requirements or need a specific set of properties we can research and source the most suitable materials for you.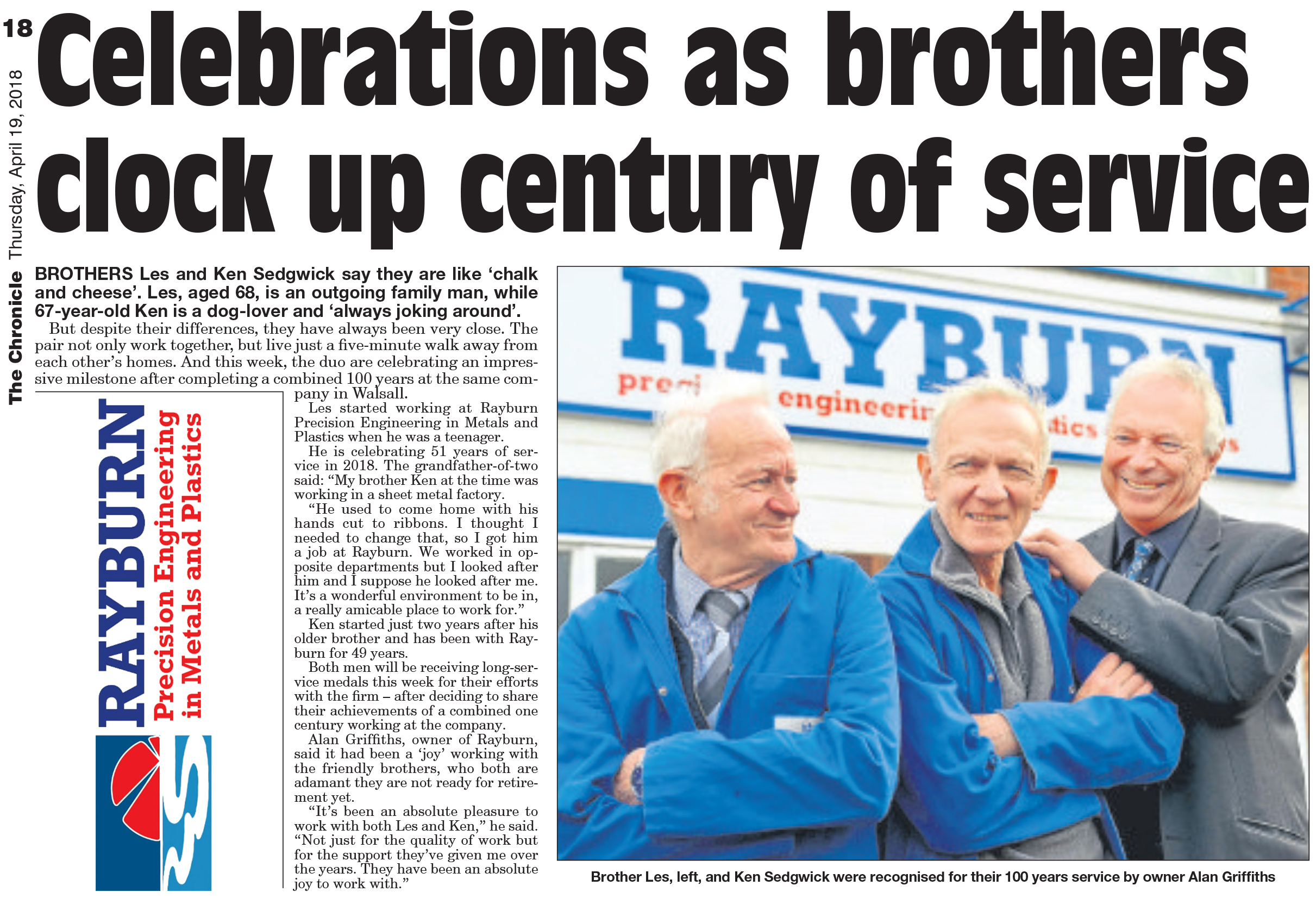 CLICK THE NEWSPAPER ARTICLE TO ENLARGE
History Timeline
1959 – Rayburn starts life from a garden shed
1961 – Admin moves to an office in Boldmere, Birmingham
1963 – Production moves from the garden shed to a small 1,500 sq. ft factory in Walsall
1966 – Whitehouse Street, Wallsall factory is extended further
1970 – Further expansion of factory in Whitehouse Street, Walsall
1975 – The Whitehouse Street factory has a third extension to meet growing demands
1978 – A second factory is purchased in Bloxwich, near Walsall
1980 – A third factory is purchased in Hay on Wye, Wales
1985 – Fourth extension of factory in Whitehouse Street, Walsall
1987 – Fifth extension of factory in Whitehouse Street, Walsall
1987 – Bloxwich factory closes and merges into Whitehouse Street, Walsall
1989 – BSI Certification Registration
1994 – Sixth extension of factory in Whitehouse Street, Walsall
1995 – Hay on Wye factory is merged into Whitehouse Street, Walsall
1995 – Rayburn Holdings Ltd is registered
1997 – Metal machining commences at Rayburn
2000 – New automated production planning system is installed
2002 – Rayburn receives Investors in People award
2005 – CNC department is refurbished
2007 – A new small-capacity CNC department is established
2012 – Upgrade of Inspection Equipment
2013 – Assembly department introduced
2014 – Complete factory refurbishment
2014 – Rayburn invests in a further flatbed router
2015 – New Managing Director appointed at Rayburn
2015 – New website launched
2016 – Second unit opened with the purchase of three new machines to extend capacity
2017 – New-look website launched
2018 – BSI 9001:2015 certificate awarded
2020 – Rayburn is given the status of a key company and remains fully operational throughout the Coronavirus lockdown